Journey to Sach Pass – Vlog #1
October 24, 2017
2161
2 Comments
You must need to login..!
Description
A little history
It all started in a first week July 2017 (6th Of July to 9th of July 2017) exactly after 2 months of delivery of my new bike "Royal Enfiled Classic 350" (5th May 2017). Like every other bullet owner, I also wanted to go for a long ride as soon as possible. Somehow I spent few days at home planning where to go and with whom I should collaborate and finally, I planned a tour with a friend (Mohanbir Singh Bajaj) who is Asst. Prof in Electronics school of Lovely Professional University. Later my cousin (Jaspinder Singh Sidhu) also joined for this tour who is also Ast Prof in the same school of LPU.
The destination
We decided to go for Sach Pass but from the unusual side which has really close to 0 traffic and is considered as India's toughest road (no road actually.) You can read more info about Sach Pass on the wiki.
The Sach pass was not the only destination of this tour, we had a plan to cover all these destinations:-
Sarthal
Bhaderwah
Kishtwar
Padder
Gulabgarh
Killar
Sach Pass
Bairagarh
Banikhet
Dunera
The journey was divided into 4 days and itinerary was like this:-
Day 1:
Jalandhar – Pathankot
Pathankot – Dunera
Dunera (PB) – Basholi (J&K)
Basholi – Bani
Bani – Lawang
Lawang – Sarthal
Day 2:
Sarthal – Bhaderwah
Bhaderwah – Doda
Doda – Kishtwar
Kishtwar – Padder
Padder – Gulabgarh
Day 3:
Gulabgarh – Killar (HP)
Killar – Sach Pass
Sach Pass – Bairagarh
Day 4:
Bairagarh – Banikhet
Banikhet – Dunera (PB)
Dunera – Pathankot
Pathankot – Jalandhar
Story of Day 1
This blog is about the day 1 and the problem and experiences we had at day 1 of this journey.
The day started early and my cousin came to my home in (Dhina, Jalandhar Cantt) to help me on mounting stuff on my bike. We met at PAP ground Jalandhar city and the journey started towards our first destination Pathankot. We were 3 when we started from Jalandhar on 3 bikes but later on, cousin of Mohanbir named Daman joined us from somewhere near Bhogpur.
We made it to Pathankot at around 7 or 8 AM but Mohanbir's bike got punctured near SAI college Badhani, Pathankot.
It took some 1.5 hours for us to get this puncture fixed, we decided to have breakfast near the SAI college, this is the same college where I did my graduation from 2006-2009.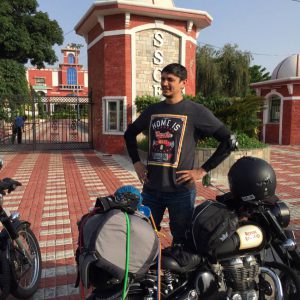 The journey continued and we halted at Basholi's famous Atal Seu bride for some photographs. Here is one pic taken on this bridge.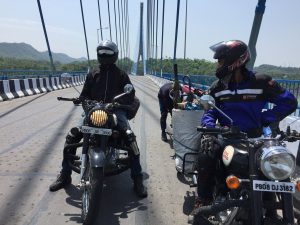 Soon after crossing this bridge we were in the J&K state of India and by the end of the day, we made it to Sarthal. A must visit place though it stays disconnected for most of the time in a year. Here is Vlog of Day which covers all the highlights of the day and kind of show all the glimpse.

Give this video a thumbs up and like, also don't forget to subscribe the channel.
Busy Janta all over the internet
1. Facebook : – https://www.facebook.com/busyjantapb08
2. Instagram :- https://www.instagram.com/busyjanta/
3. Twitter:- https://www.twitter.com/busyjanta
– Malkit
You can follow me on twitter @malkitsingh01
2 comments on "
Journey to Sach Pass – Vlog #1

"
Pedro sebastian rivera on