Ladakh ride 2018 | Day 1 | Jalandhar to Srinagar | BusyJanta
June 29, 2018
1541
No Comments
You must need to login..!
Description
After buying the bullet almost a year ago on 5th May 2017 I was super desperate to do the Ladakh ride because this is what people do after owning a Royal Enfield bike 😀
I wasn't much into biking and rider community before owning this awesome bike. But soon after buying I kind of developed the interest into moto vlogs and when it comes to bike ride, Ladakh comes to the top.
I was planning this ride from so long and finally, things got into reality on 8th June 2018. Here is the story of day 1 from the ride.
I along with 4 friends did this ride and 3 of us were on bikes (me, Mohanbir & Rohit) and 2 of us were on SUV (Satnam & Gurpal). We planned to start early that day but got late as always and started from Jalandhar at around 6 AM.
We gathered at PAP circle of Jalandhar city and did status updates on all social platforms and did some photography. Sharing one of the pictures from the session.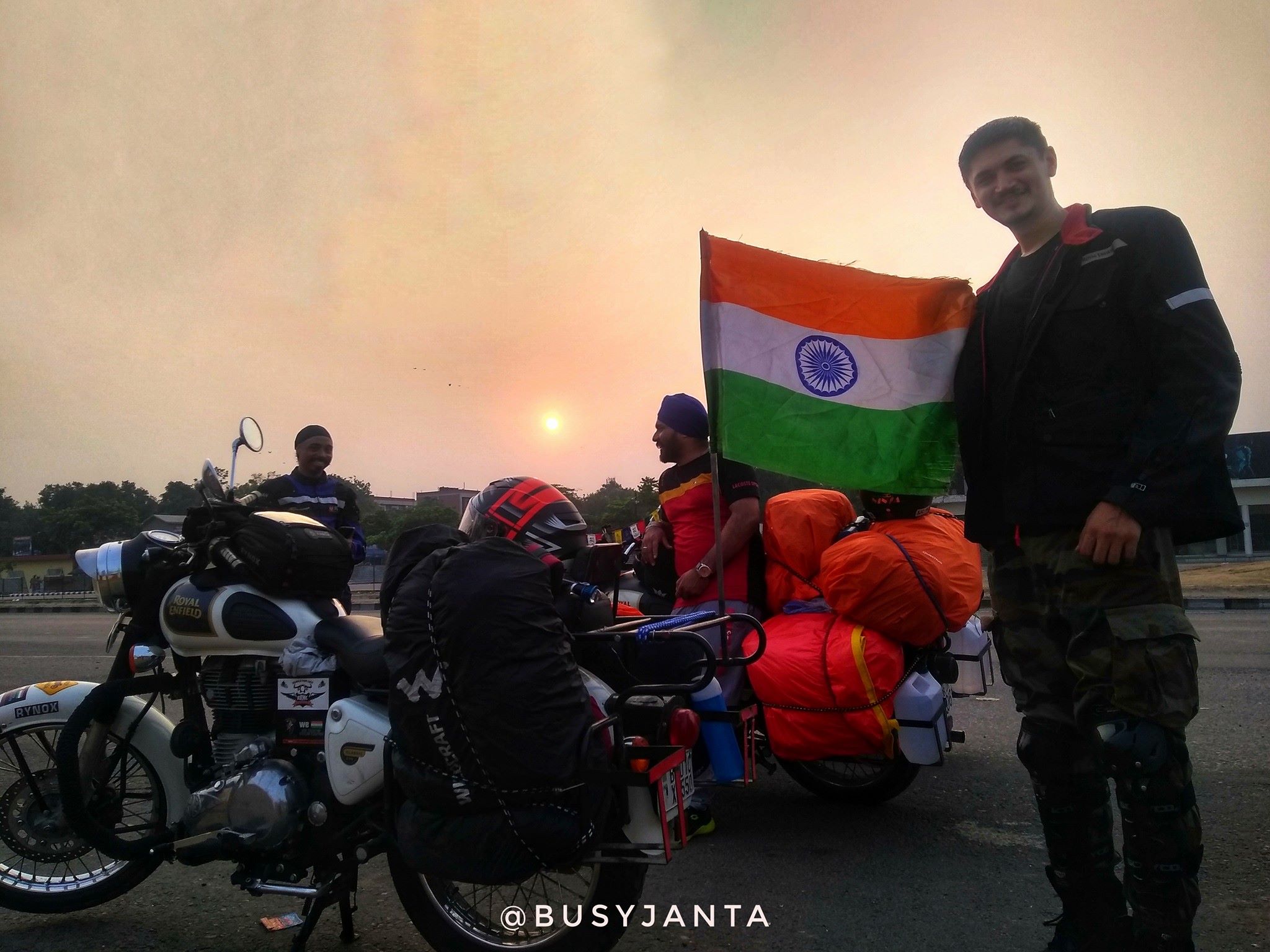 After leaving from Jalandhar we took a short break in Pathankot and did breakfast and this was the first meal of us all together. During this break, I installed action cam on Rohit's helmet and intercom on Mohanbir's helmet and wasted some good 2 hours or so.
Soon after entering into Jammu & Kashmir district we were stuck into traffic jams and potholes on the road. Most part of the road is being constructed and due to this, there is a lot of dust/mud/slush on the road which kind of irritates while riding a bike but that's part and parcel of the game.
After crossing the Jawahar tunnel we finally made our entry into Kashmir valley and finally got relief from traffic and bad road conditions. Here is one photo we clicked near titanic point after Banihal.
Things become easier after entering into Kashmir valley. All the problems like traffic, potholes, dust, and heat from sun went away all of sudden soon hitting Kazigund. Thunderstorm and mild rain welcomed us into the valley but it started raining heavily when we were just 30 KMs away from Srinagar. We took shelter near the highway and spend around 1 hour waiting for the rain to stop and finally made to Srinagar where other 2 who were on SUV were waiting for us.
Fine dining at the end of day sorted it all and we were charged and excited for the next day. Srinagar to Kargil ride.
Check out the complete video of day 1 on your YouTube channel and subscribe if you haven't done already. Peace!